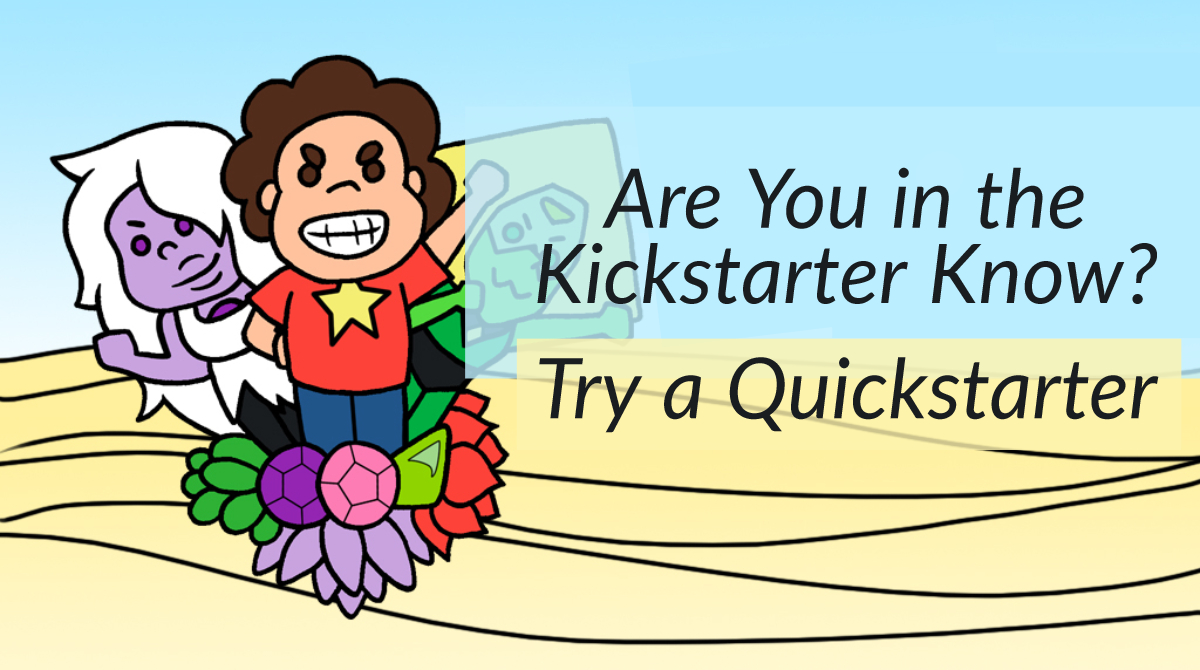 There's a new crowdfunding method in town and its name is Quickstarter. Maybe you've heard of it. Or maybe the title had you wondering what in the world is that? Either way, you've come to the right place.
What is a Quickstarter?
A Quickstarter is…*drumroll please*…a very short Kickstarter. That's all. It's not a new platform at all. But before you leave with a "psshaw!", you should know Quickstarters are an actual thing that the Kickstarter team acknowledges and encourages.
Kickstarter had humble beginnings, intended to support small creative projects. But now you can find anything from art zines to large-scale corporate endeavors. Companies and startups are using Kickstarter to fund everything from robots to ramen.
Giant, large-scale Kickstarter projects take on a different look. Most include press releases, endorsements from big names in their respective industries, and several "stretch goal" extensions.
To give you an idea of the scale of these projects, here are some highlights:
While impressive, these projects are a vast departure from what Kickstarter founders Peter Chen, Yancey Strickler, and Charles Adler intended. While Kickstarter's mission is focused on creative projects, the most revenue has come from their games, design, and technology categories.
In response, they've launched the "Quickstarter," described on their site as "an invitation to create small projects." The idea is credited to Oscar Lhermitte, a designer based in London.
What's Considered a Quickstarter?
There are 9 qualifying "rules" for running a Quickstarter. Like the whole concept of a Quickstarter, these rules are informal and not enforced in any way. Following these "rules" is entirely up to the project creator:
Planned in 3 months or less.
Runs for 20 days or less.
Goal is under $1000.
Backer rewards are under $50.
Video (if used) shot in a single day.
No creator-initiated media or PR.
No paid ads.
No stretch goals.
The term "Quickstarter" is in your project name.
The rules are simple. In short, Kickstarter is telling creators to think small, spend less, and do less. Maybe I'm not the target audience for this initiative since anything I would put on Kickstarter would meet most, if not all, of these rules. Or maybe this is a roundabout way of telling individual creators like myself that there's still a place for my kind of project.
Quickstarter Examples
There are a surprising number of Quickstarter projects already. Some of the most popular ones that articles have mentioned are the envelope bag, which is just a really strong bag that's foldable…
…and the lazy postcard, which are postcards with cutouts so you have an excuse to write a really short (or not) message.
As a writer, that's not really my thing, but 141 people were into it.
Personally, I liked Stami Studios's Sleeping Luna Pin Quickstarter.
So Why Do a Quickstarter?
Are there any special benefits to running a Quickstarter? Is there a good reason for big companies to start trying smaller projects or for small businesses to jump on board and label their projects "Quickstarters"?
I have no idea.
At this point, there doesn't seem to be any particular benefit to running a Quickstarter over an ordinary Kickstarter. But I'm going to try one and here's why:
It Can't Hurt
I don't know if there are any benefits to running a Quickstarter, but since the idea has been so highly promoted by Kickstarter, there can't be any penalties either.
Rule Breaker? Not Me.
The project I'm drafting already meets all 9 Quickstarter rules. It's a single enamel pin and I don't plan to add any stretch goals. I suppose I can resist my urge to reach out to news outlets and my PR connections for this one.
Curiosity
If running a business on Instagram has taught me anything, it's that there's a LOT going on at the backend of any platform. Instagram is notorious for its confusing algorithm, which determines which posts you actually see on your feed.
So could jumping on the Quickstarter bandwagon get my project more traffic? Possibly. But I'm sure Kickstarter would never reveal if and how they prioritize projects on their platform, other than the blatant "Projects We Love" category.
Will running a Quickstarter get my campaign featured on the Quickstarter page? Again, it's not clear. But currently, the most visible projects displayed are already listed as "Projects We Love." You have to hit the "Load More" button several times to even see ordinary projects.
Still, I do think there are a couple reasons why "Quickstarter" is a nice thought:
It communicates to creators that small projects are okay and relieves the pressure to promote your campaign like it's a second job.
It communicates to potential backers that this is a simple project with a quick turnaround.
In the end, I don't expect much from running a Quickstarter, but I'm curious enough to try it.
My Quickstarter Plans
I'll be holding a Quickstarter for *surprise surprise* an enamel pin! If you follow me on Instagram or this blog, you may know that I've been venturing into the world of fan art. I have two Ghibli pins up for sale now, but anyone could make Ghibli pins. Who doesn't like Ghibli?
But the fandom I'm really obsessed with is Steven Universe. If you haven't seen this cartoon, I'm sorry. I can't even explain to you why it's the best because that would take a 5-part blog series. Although if you're interested, I could take a month to write about Steven. I'll just say that in our currently-especially-crummy world, I fully endorse the use of uplifting cartoons as self-care.
But back to Quickstarter.
I'd love for my first Steven Universe pin to be this "Shorty Squad" design!
I absolutely love Shorty Squad and being vertically challenged, I can relate. Peridot is also my favorite.
I've never seen a Shorty Squad pin (but if you're aware of one out there, please send a link my way!) so I would be thrilled to bring this cute crew to life.
Why a Kickstarter for One Pin?
I realize this is a single pin, so you might be wondering why I'm running a Kickstarter for it. The main issues are that this is pin has to be big enough to preserve all the details and has a lot of different colors to stay true to the characters.
Naturally, the larger and more detailed a pin is, the most costly it is to produce. A standard price for enamel pins usually includes 4 to 5 colors. This Shorty Squad pin would have 15 COLORS. Here are the specs I have planned so far:
hard enamel
gold plating
2 inches wide
15 colors
2 pin posts
Monicartsy back stamp
There's quite a bit going on for one pin. That's why I'm launching a Quickstarter on July 15th. The campaign will last two weeks and end on July 29th.
The circumstances of this project are a bit different than my Seasonal Succulents Kickstarter. I was determined to make the entire set of four succulent pins even if the campaign didn't cover all the costs. I successfully funded two of the pins and released the remaining pins later. But the Shorty Squad pin will truly be all-or-nothing.
If the pin isn't fully funded through Kickstarter, I'll take it as a sign that there isn't enough interest in the design and leave it on the drawing board. I've rushed into some of my previous pin designs without gauging interest, so this time I'm trying to be more mindful of what people want and are actually willing to buy.
In personal news, I'll be moving across the country to start graduate school soon. So unfortunately, I'll need to buy boring things like furniture before producing new pins. Although I'm nervous and weirdly worried about failing with this Kickstarter, I'm looking forward to just giving it a shot!
I hope you look forward to seeing this project go live soon! Keep up with updates on my Instagram or Facebook page.