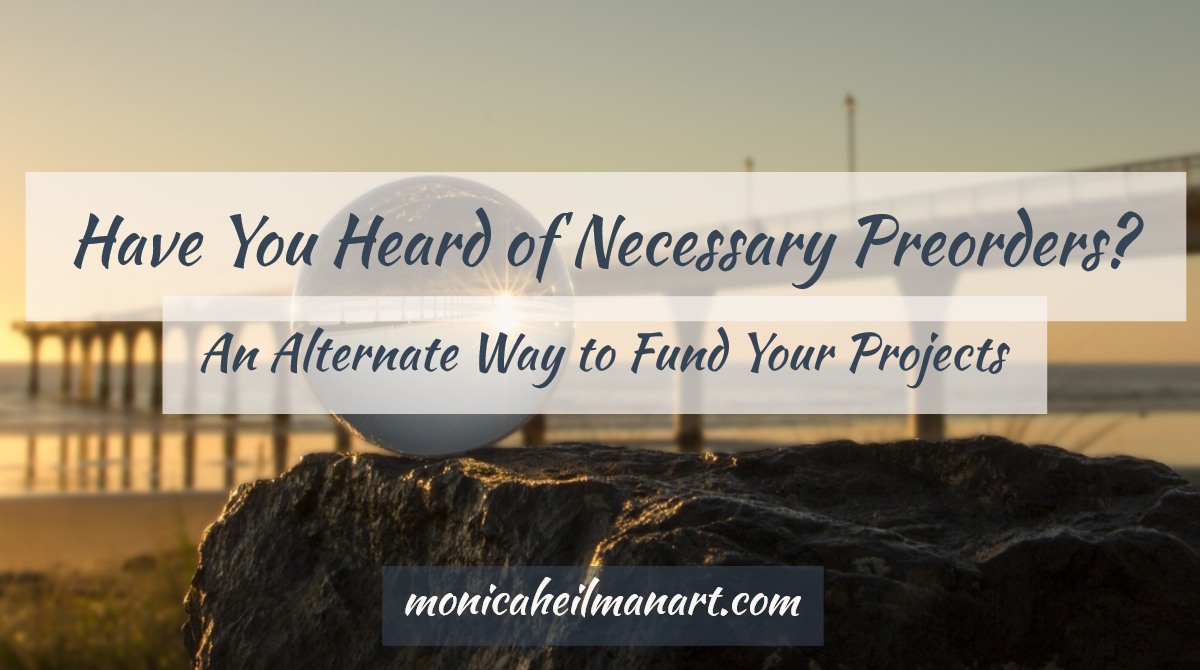 Kickstarter isn't always convenient. It takes a lot of time. The funding isn't guaranteed. You need to follow the Kickstarter's requirements to get approved and pull off a successful campaign. And then you need to give Kickstarter their cut. It's not surprising that many creators would rather stay away.
Preorders as a Way to Fund
Many artists in the enamel pin community open preorders. But generally, preorders don't perform well unless the artist is well-known and/or there's a good discount included. From what I've seen, preorders aren't a good way to gather funding for production.
But there's another beast known as "necessary preorders."
What is a Necessary Preorder?
I've only seen necessary preorders pop up in artists' shops recently.
Necessary preorders require a certain number of orders before the project can go into production. The seller will only run necessary preorders for a set period of time. If they don't receive enough orders by the deadline, the project will not be made and all customers will have their orders refunded.
It's essentially an independently run Kickstarter. For many products, Kickstarter and other crowd-funding platforms act as preorder facilitators. Yes, backers may help bring a product to life, but in most cases, they expect to receive the product as well.
A necessary preorder is arguably more transparent in being all about the product. Naturally, there are several reasons why you might consider a necessary preorder and several reasons you might not.
Benefits of a Necessary Preorder
You retain control.
On your shop website, you run the preorder campaign any way you want. There are no limitations to the rewards you can offer to customers, no set formula to follow, nor any obligations to continually update your project.
No fees.
Because you manage the entire process yourself, you don't owe fees to anyone. Every cent you make can go directly into your project. Plain and simple.
Flexibility
On a crowdfunding platform, you're tied to a specific funding goal and deadline. But on your website, funding a project quickly means you can access your funds immediately and get your product into production faster.
Timing is also up to you. If you don't quite meet your goal by the deadline, you might choose to wait a day, make a final promotional push, and encourage a few more preorders. Or you might decide to foot the rest of the bill yourself and start production. While having this flexibility is nice, be sure to communicate clearly with your customers so you don't come across as unreliable. This leads in nicely to the potential drawbacks of running necessary preorders.
Drawbacks of a Necessary Preorder
No established platform to drive traffic to your preorder campaign.
Whenever you fundraise on a platform, you benefit from the built-in audience that comes with it. My Seasonal Succulents Kickstarter received 46% of its pledges from people who discovered me through Kickstarter. If you choose to run a preorder campaign on your own, you don't receive the perks of additional traffic from a platform.
More marketing required for you.
You need to put more effort into two levels of your marketing efforts: design and traffic. Naturally, you need to do extra promotion to get the same amount of visibility that your project would have received on a crowdfunding platform.
But you also need to consider the layout of your preorder page. Kickstarter comes with a pre-built structure designed to lay out the details of your project clearly and concisely. Backers are usually familiar with Kickstarter's layout too, so they can quickly find the information they need.
Your necessary preorders need to be displayed prominently and made distinct from any regular products. If your preorder is listed just like any other product, you risk visitors glossing over it or misunderstanding its purpose.
You have the burden of more perceived risk.
Crowdfunding platforms don't just come with an audience. They've also established trust with consumers. Most online consumers have heard of sites like Kickstarter, Indigogo or GoFundMe. If your project doesn't get funded, visitors know the site is reputable and can count on receiving their money back.
When purchasing a necessary preorder, the consumer has to trust you as an individual business. This is an additional and perhaps the most significant barrier to a purchase. Ways you can reduce this barrier include showing a clear track record with positive reviews, similar products, and successfully funded projects in the past.
Tips for Running a Necessary Preorder
Be crystal clear.
Ensure everything is crystal clear from the start. There are many opportunities for visitors to misunderstand or misinterpret your project. Necessary preorders simply aren't very well-known. If you don't believe me, just do a Google search. Marketers aren't even talking about necessary preorders yet (or if they are, their SEO is too low to show up in search engine results).
You don't want users misunderstanding and expecting your preorder product to be sent out immediately. Take care to also explain that the project is not guaranteed to be funded. Customers should be sad, but not shocked if your project doesn't make it.
Regardless of the outcome, the most important point you'll want to stress is what happens with their money. Clearly state that if a project isn't funded, you'll completely refund everyone's orders. It wouldn't hurt to mention this multiple times. You want to emphasize that funding this project carries no risk for your customers.
Consider your timing.
Choose the right length of time. This is easier said than done. You'll want to choose a time frame that isn't so long that your customers get sick of waiting and pull out. But your preorder period can't be so short that you don't have enough time to promote your project. Give people time to find your project and be clear about your deadline.
There's no single "best" length of time for a necessary preorder. This will vary by the nature of your project and your reputation as an artist. Do you already have an extensive network and social media following? Or will you need more time to reach enough members of your target audience? Expect some trial and error. The default for Kickstarter projects is about one month.
Social media is your friend.
Since you need to promote your preorders even more than you would on a crowdfunding platform, use social media to your advantage. You can find just about any audience on social media. Even businesses who target consumers aged 65+ use Facebook.
Connect with your following. Ask them to support your project, if it's of interest to them and ask them to share for a snowball effect. While you could do extensive research into what makes for effective social media marketing, here's a crash course.
Create fun, interesting, and relevant
Use images and video.
Post consistently.
Craft attractive headlines.
Don't forget to include an ask (CTA) in your posts.
Create a community.
People enjoy the community aspect of crowdfunding projects, but you don't need to use a platform to encourage community. On social media, email lists, or in-person, communicate with your customers and followers. Although you're not obligated to provide updates, your customers will appreciate being kept in the loop. There's a sense of progress that comes with project updates. They can also double as promotion opportunities to remind people about your project and generate more excitement.
Give evidence of past success.
We touched on this when we talked about risk, but don't be shy about showing off your past successes. A strong track record goes a long way, whether in the form of concrete numbers or social proof. Numbers you can highlight include number of sales, past projects you've successfully funded, or existing products that are similar to your necessary preorder.
Social proof brings in others and has more weight than your own word. You'll want to provide evidence of satisfied customers in the form of positive ratings and reviews. Another powerful way to accumulate social proof is by partnering with bloggers, social media influencers, or media outlets. Coverage of your product, specific project, or business as a whole builds trust with your target audience.
Necessary preorders can be a helpful, independent way to fund your projects. But they require a lot of groundwork and additional promotion, particularly for small businesses. Have you tried necessary preorders for yourself? If so, what was your experience?