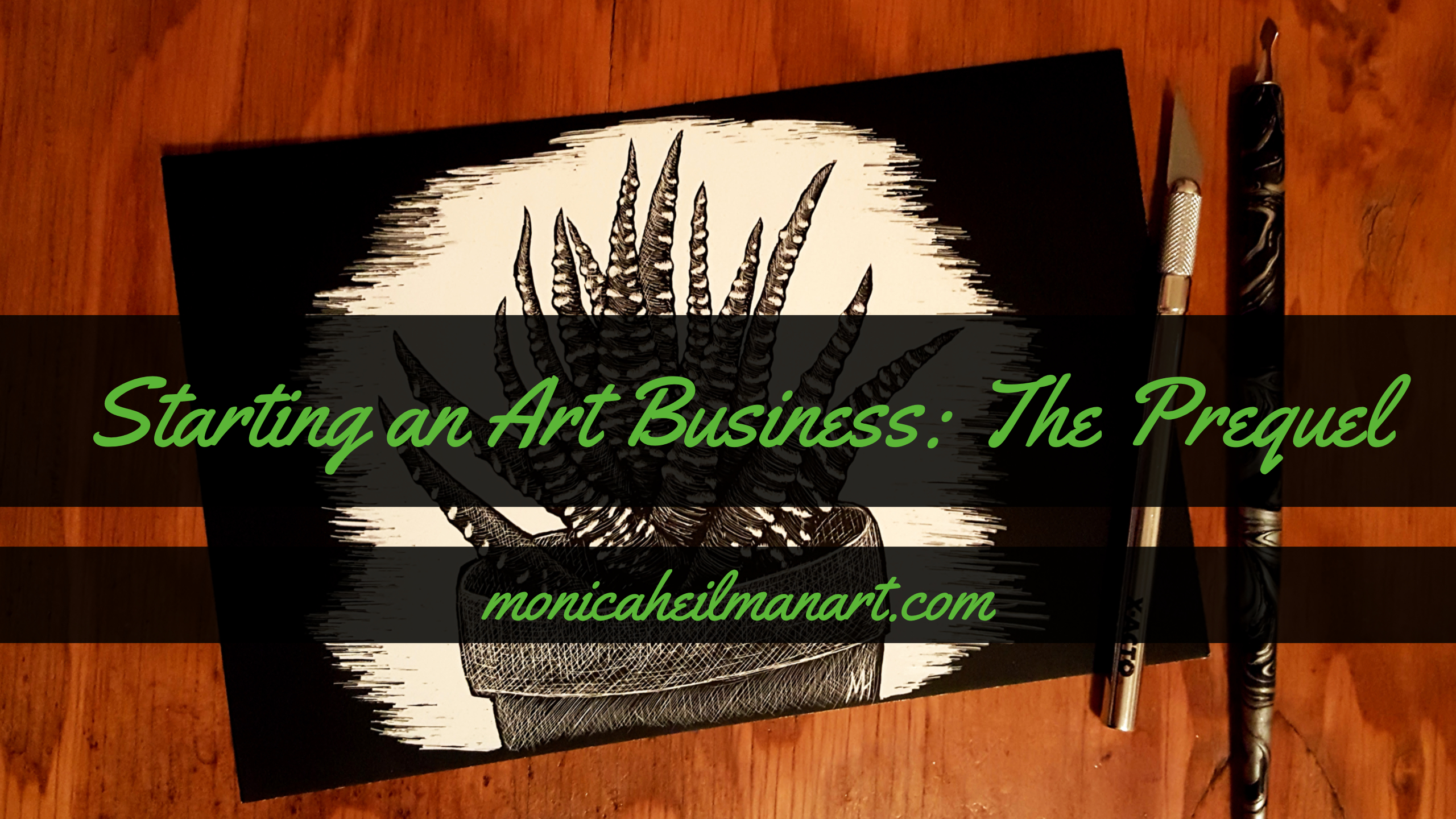 This year is off to a good start…because I'm starting an art business!
I'm careful to say "starting" and not "started" because I've yet to open a store or create a product. But even though I'm still in the foundation-building stage, I've started to make moves.
One of the first changes you've probably noticed is that you're on a new website. MonicaHeilmanArt.com will be the new home for this blog and my art portfolio. My former blog site, MonicaHeilman.com, is now the domain for my professional, academic website (and home to a new blog).
I wanted my first original post here on MHA to be about these changes. But when I stopped to think about how I could make this post valuable for you, dear reader, I thought why not do a series on starting and running an art business?
But If You're New to This, Why Are You Writing about Starting an Art Business?
Short answer: Because if I waited until I felt like an expert, I'd never write anything.
Obviously, as a new business owner, I can't tell you about the 10 Best Ways for Artists to Market Their Work or How I Made $6,660 in One Month! but I can share my successes and struggles as I go.
There's something fun about going along for the ride and following another person's journey. And right now there are a lot of minuscule things that are confusing and difficult to figure out. Later on, I'm sure I'll forget all about those little struggles, but maybe someone else coming after me will have the same questions. And they'll be able to come here, see my messy thought process and relate. Then hopefully find some answers.
So once a month I'll give you an update on how this art business thing is going, the roadblocks I've faced, and my progress. In short, this is the FAQ that no one asked for. Because when I'm a rich and successful art entrepreneur (said no artist ever), I won't remember the details that stressed me out in the beginning. You're welcome in advance.
My hope is that someday this series will be able to serve as a blueprint for one way someone might go about starting an art business.
Origin Story: Motivation for Starting an Art Business
Since this post is a sort of art business origin story, I'll go into my motivation. This will probably be the fluffiest post in the series, but I'll go into the nitty-gritty details in later posts.
So motivation. I've loved creating art my entire life. But what pushed me to finally start an art business?
I've already written a little bit about this topic in my New Year's post. Amid my spin on New Year resolutions, I also wrote about the negativity that discouraged me from doing anything with my art.
But along with those negative messages, I've received positive comments. These have built up for years without me even realizing. From overt, amazed reactions to my art from friends to remarks from my dad that are so subtle I almost don't register them for what they are–encouragement. But the comments I remember the most are the ones that just assume I'm already successful:
"Where's your Etsy store?"
"What are your rates?"
I'd humbly reply, Oh I don't have a store. Actually, I don't really sell my work. But those comments always left me thinking.
What finally pushed me over the entrepreneurial line wasn't a big motivational moment or a massive show of support from family and friends. It was enamel pins. That's right, enamel pins. Way to shatter the emotional lead-up. I'm talking business today.
Pins, Pins, Pins!
I've fallen fast and hard for the enamel pins trend. And I blame Reboops aka my childhood friend Rebecca. My first two pins were gifts from her. She hit me with my favorite fandom, Steven Universe. I retaliated by stalking online pin shops for Black Friday deals and getting her back with Sailor Moon and Overwatch.
But I didn't stop there. I ended up buying pins as Christmas gifts for my sisters, Alyssa and Mandy, and myself. (You can't blame me–it was Black Friday and free shipping was involved!)
Then one day, Reboops asked my opinion on whether she should try making pins. She's an awesome artist who already has an Etsy store and does tons of artistic things. She was my secret artistic rival as a kid.
Obviously I said YES.
100%.
GO FOR IT.
Then I said making pins sounded fun and it was her turn to say YES-100%-GO-FOR-IT. And both our minds started churning. That's how I imagine it anyway.
In reality, she got started right away and I got stressed out. But before we get into my stress, I have to go on a tangent about Reboops making awesome progress already! I see you, rival! If you like Sailor Moon or general cuteness, you definitely need to check out her Kickstarter.
It's already guaranteed to be funded, but I want her to at least get to Sailor Mars. You can go ahead and support her now because I'll catch up later.
So I started seriously considering an art business online because I want to make pins. But now I'm planning art prints, keychains, and well, still looking into what I'd like to offer.
Stresses and Successes
Each month I'm going to include a list of stresses (apparently you can use the word this way) and successes. I can already see how some of my stresses were silly and unnecessary but I genuinely struggled with them for a while.
And my successes may not always be big wins, but they'll be a list of accomplishments and steps I've taken in the past month. So for this half-month:
Stresses:
Coming up with a business name
Wondering what username to choose for my new Instagram
What kind of art to post on Instagram
Not having a consistent art style
Choosing a name with domain availability
Separating my art blog from my writer website
Creating a storefront
Etsy or Storenvy?
Successes
Created a new, simple domain name (monicaheilmanart)
Moved my art blog to the new site
Set up SSL (https) on my new site
Did a lot of blog transition grunt work (replacing broken links, setting up redirects)
Started an art Instagram
Began posting consistently and building an audience
Created an art Twitter and Facebook
Drew a few preliminary pin designs
I won't go into all of these points, but here are the main ones and how I'm dealing with them:
Business Name
I was surprisingly stressed about creating a business name. Partially because if I didn't have a business name, I couldn't start any of the other things on my list! I also placed a lot of weight on Instagram and my Instagram name, because my thought process went like this:
-> Want to make pins
-> Need an art business to make pins
-> Need a strong online presence as an artist to have a successful art business
-> Instagram is awesome for online presence and artists
-> Need the perfect Instagram account
-> Perfect Instagram account requires a cute, preferably witty name that people will remember
As a result, I have a couple notebook pages crammed with business name ideas and word association lists. I went to my sisters and forced them to come up ideas with me. I then made a short list and checked to see which of those names were available as a .com domain.
Finally, I ended up going with "monicaheilmanart" for my domain and using "monicartsy" as my social media handle. Monicartsy was the name of my original Instagram and I definitely spent no more than two minutes on it.
And you know what? I feel just fine about these names. Since I don't have one specific type of art I'd like to sell, these names give me to freedom to go in multiple directions or even make significant changes in the future without feeling like I'm not staying true to a name.
Buying a Domain
To be honest, buying a domain was probably completely unnecessary for an art business. Several platforms like Etsy, Storenvy, and Big Cartel let you host a beautiful storefront right on their site. But I already had one website that I wanted to split into two.
MonicaHeilman.com started off as my art portfolio back in college. I started an art blog on the site too, but then abandoned it. When I began freelance writing, I added my writer information and clips to that site and started blogging again to keep the site active. But it was making less and less sense to host an art blog on my freelance writer website (although I did write about art for one client). I've wanted to separate my art content from my writing business for a while, and starting an art business was the perfect opportunity to do that.
I know I'll continue blogging about art and it was no problem to add another domain to my existing web hosting plan. I'm already comfortable running a website and owning a domain is kind of fun. So for me, an art website makes sense, even though I plan to use other platforms to sell my work initially.
Etsy or Storenvy?
Both! I agonized over this for a bit until I read an article that said there was no reason you can't do both. And so I will.
Etsy is so well-known that it's the easiest way for people to find your shop. They charge listing fees and take a percentage, but name recognition seems worth it.
I discovered Storenvy though other enamel pin shops and really liked the layout. Their storefronts look like an independent storefront, not just a user's profile. Storenvy also has a marketplace similar to Etsy's where you can discover other creators and buy their products. Another big plus is that Storenvy doesn't charge any listing fees, so I'll be able to leave up as many products as I want indefinitely. That sounds pretty good.
I'm sure that later, I'll have much more to say about each platform.
Art Style Inconsistency
I'm still unsure about this one. Finding your "own style" is a big concern for many artists. I've through several stages with "style":
Searching for my style
Believing that nothing was original so trying to create your "own style" was pointless
Creating whatever I wanted not caring about consistency
Realizing that consistency is vital to marketing yourself
Accepting that a style doesn't have to limit your work
Since I stopped searching for a style to call my own in high school, maybe I've stagnated on this front. But your art style seems to have a way of creeping up on you. On my new Instagram, my only criteria for the art I've been posting is that a.) it's interesting and b.) it's good. Curating for quality has turned out more consistent than I expected. I lean toward detailed work focused on lines rather than shapes. Or maybe it's just all the plant drawings. Those create consistency too.
Conclusion
So at this point, I've gone through the process of setting up a website and social media accounts. I'm posting and creating art more consistently, while also following existing online art businesses I admire.
If you've stuck with me this far, kudos! This post was a long one and I might keep the others in this series shorter and more focused.
Are there any topics you'd like to hear more of or questions you have so far? Let me know in the comments!