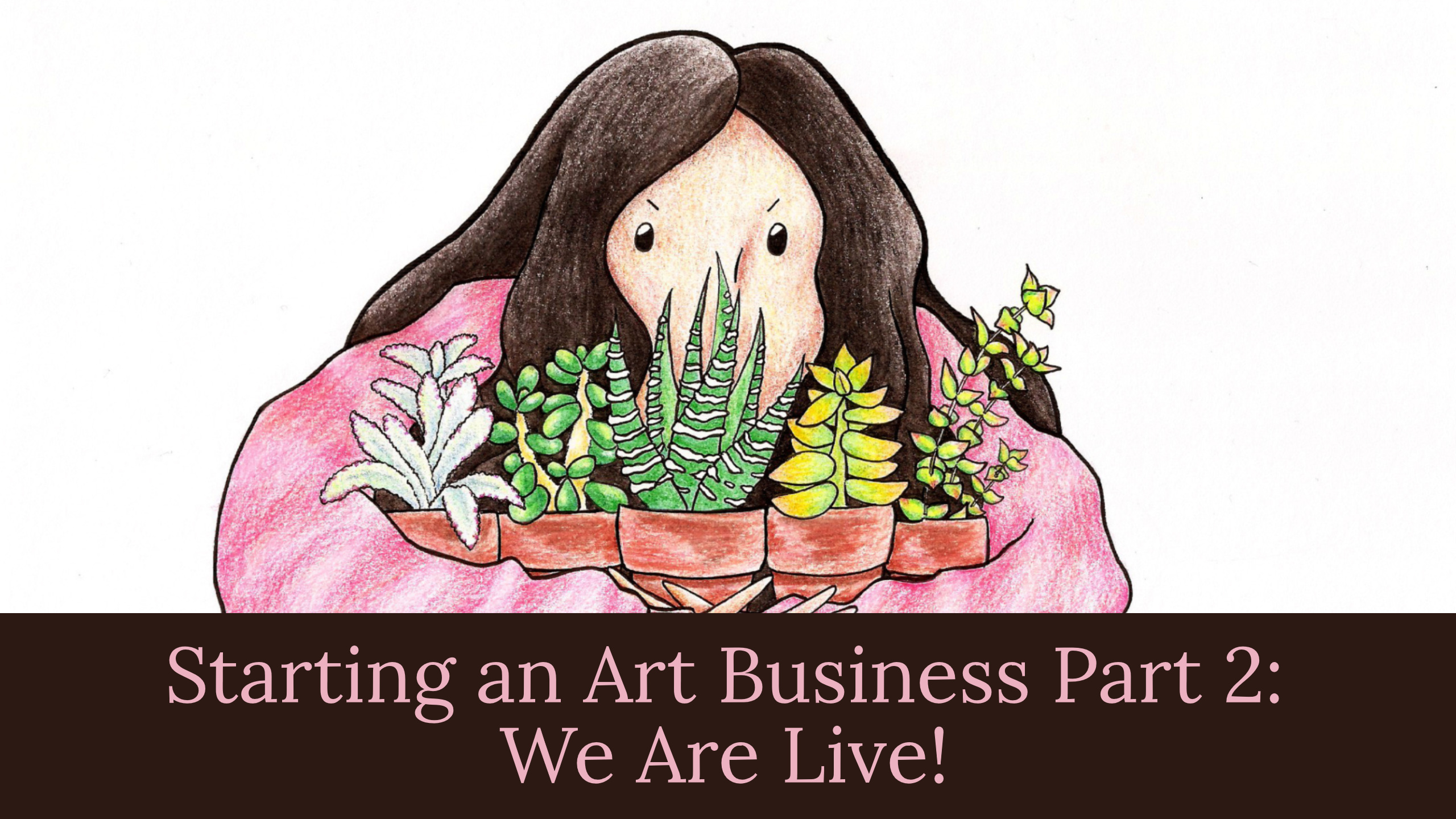 I did it. I started an Etsy! Last month I said I was starting an art business and now I have the physical proof. Done.
Well, not even close. But rather than look ahead, this post is a moment to pause and look back. To take stock of my progress and then keep on going. To be honest, it's a little annoying. In my last post, I was high on motivation and the thrill of starting something new. Now I'm in the trenches. I'm not interested in stepping out and reflecting on my progress because I have so much more to do – why don't you just let me work? But I set up this schedule for myself, so here I am, writing this post even though it's already a day late.
The big accomplishment of the past month was launching my Etsy shop last week (which you can find under "Monicartsy", just like any of my social media accounts). But even before that, I was doing a lot of work, even if I didn't have anything to show for it yet.
Stresses and Successes
Each month I'm writing out my "stresses and successes" as a quick way to identify what was really stressing me out at the time and document my wins. Here are this month's stresses and successes:
Stresses
Figuring out what to sell (other than pins)
Not knowing where to start with art prints
Choosing the "best" way to print art
Not knowing how to ship art prints
Digital art, in general.
Struggling with line art in Photoshop
Worrying I wouldn't be able to provide the right file type to manufacturers
Whether I needed to learn vector art
Whether I needed to learn Illustrator
Being a perfectionist about my pin designs
Writing this post!
Successes
Continued to make and post art consistently
Started an Etsy!
Cleaned up 2 art pieces digitally to get them print-ready
Listed digital prints for sale
Received sample prints from two companies
Started a business log/journal
Finished my first pin-ready design in Photoshop
Figured out Pantone colors
Inspired to sketch out tons of pin ideas
Created a short list of possible manufacturers
Compared manufacturer services and quotes
Choose a manufacturer!
Negotiated effectively for add-ons
Received and approved my pin mockup for production!
Digital Art, My Nemesis
Digital art was probably my biggest struggle this past month. So traditional artists, sympathy? Digital artists, keep on doing your thing. (But I guess maybe it's the digital artists who can really understand what that beginner struggle was like.)
Digital art is hard! You might remember that not too long ago I was at scribble level. I'm still learning and nowhere near proficient – maybe just good at hiding my flaws. But a pin design is a pin design. No way to dress it up. It is what it is. If a line is squiggly, it's squiggly for everyone to see.
Now it feels weird, but I had a serious I'm-not-sure-I-can-do-this moment with line art. I couldn't get my lines smooth, any scanned artwork looked super messy when I opened it up in Photoshop, and none of the "Tips for Smooth Lineart" articles were helping. I had no idea how I was supposed to finish a clean pin design, let alone convert it to a vector file in Illustrator. Everything was overwhelming. I was probably pretty tired too.
I messaged a pin maker friend to let out my angst. But she kind of ruined my moment.
Oh, my lines aren't completely smooth or straight either lol, her message read.
My manufacturer actually accepted a jpeg file – they didn't even ask for .psd!
Just like that, my worries were invalid. I finished that stupid pin design and even though I wasn't sure I'd use it, I finished. I finished my first pin design.
Now I've made a handful of pin designs and it's no big deal. Lol.
Stay Tuned…
This post was a little shorter than usual, but that's because I just wrote a massive 2000+ second post for this month. So if you have any questions about the Stresses and Successes here, hold on. Chances are they'll be answered in tomorrow's post. Keep an eye out for it!
Other posts in Starting an Art Business: